Finally, spring break. I have two weeks of freedom. This first week, I am staying around just to relax and get in some quality baking time. This past week was rather lacking because of the end of semester craziness. Tiramisu is a lot of people's favorite dessert, and I can understand why. , an unbaked italian cheesecake and coffee-soaked cookies. If there's one thing I love, it's
coffee
. I'm pretty much a zombie without it. I have at least one a day. I try to only have one because getting addicted to caffeine at my age is not the best thing. But sometimes, I slip and have a couple in one day...I needed to do a coffee dessert because it really is a true love of mine.
Lady fingers
3 egg whites
3 egg yolks
60 grams sugar
40 grams powdered sugar
65 grams AP flour
1/2 teaspoon vanilla extract
1/2 teaspoon cinnamon
Preheat oven to 350 degrees F. Line two baking sheets with parchment paper. Use a pencil and ruler to make 3" high banners across the parchment paper. Leave about 1" in between each banner. Have ready a pastry bag fitted with a 1/2 inch round tip.
In your electric mixer, fitted with the paddle attachment, beat the egg yolks and 30 grams white sugar on high speed for about 5 minutes or until the mixture becomes thick and pale yellow (ribbon stage). Beat in the vanilla extract. Sift the cake flour into a medium bowl with cinnamon. Sift again over the batter, but do not fold in.
In a clean bowl (or washing your old one), with the whisk attachment, whip the egg whites until soft peaks form. Gradually add the 30 grams white sugar and whip until stiff peaks form and the whites are glossy. Fold the whites into the egg yolk and flour mixture in three additions, mixing only until incorporated.
Transfer the batter to the pastry bag and pipe the batter into 3" long ladyfingers, using the lines drawn on the parchment paper. Pipe the batter leaving about a 1" of space between the cookies.
When you have piped all the cookies, place the powdered sugar in a wire strainer, and lightly sift the sugar over the tops of the cookies. Bake for 8 to 10 minutes or until the ladyfingers are firm but barely browned and are still spongy when pressed with a finger.
Remove the baking sheets from the oven and slide the parchment paper from the baking sheets onto a wire rack. Let the ladyfingers cool for a few minutes and release them from the parchment paper, with a flat spatula, while they are still warm.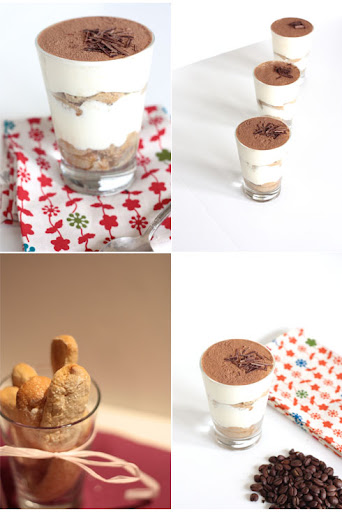 Filling
3 large eggs, separated
3/4 cup sugar
1 (8-oz) container mascarpone cheese (1 scant cup)
1/2 cup chilled heavy cream
2 cups very strong brewed coffee or brewed espresso, cooled to room temperature
2 tablespoons Kahlua
2 tablespoons unsweetened cocoa powder
Beat together yolks and 1/2 cup sugar in a large bowl with an electric mixer at medium speed until thick and pale, about 2 minutes. Beat in mascarpone until just combined.
Beat whites with a pinch of salt in another bowl with cleaned beaters until they just hold soft peaks. Add remaining 1/4 cup sugar a little at a time, beating, then continue to beat whites until they just hold stiff peaks.
Beat cream in another bowl with cleaned beaters until it just holds soft peaks. Fold cream into mascarpone mixture gently but thoroughly, then fold in whites.
Stir together coffee and Kahlua in a shallow bowl. Dip 1 ladyfinger in coffee mixture, soaking it about for a few seconds on each side, and transfer to glass dish/individual glasses. Repeat with more ladyfingers and arrange in bottom of dish, trimming as needed to fit snugly. Spread half 1 1/2" high of mascarpone mixture over ladyfingers. Make another layer in same manner with remaining ladyfingers and mascarpone mixture. Chill tiramisu, covered, at least 6 hours.